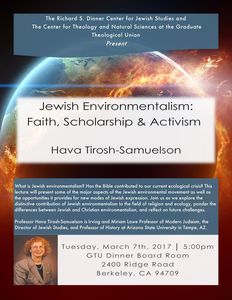 A CJS Event featuring Hava Tirosh-Samuelson, cosponsored by the Center for Theology and the Natural Sciences, in connection with the Russell Family Fellowship Conference.
What is Jewish environmentalism? Has the Bible contributed to our current ecological crisis? This lecture will present some of the major aspects of the Jewish environmental movement as well as the opportunities it provides for new modes of Jewish expression. Join us as we explore the distinctive contribution of Jewish environmentalism to the field of religion and ecology, ponder the differences between Jewish and Christian environmentalism, and reflect on future challenges.
Professor Hava Tirosh-Samuelson is Irving and Miriam Lowe Professor of Modern Judaism, the Director of Jewish Studies, and Professor of History at Arizona State University in Tempe, AZ.