CTNS Rostered Faculty
Dr. Robert Russell
Dr. Robert J. Russell is the Founder and Director of CTNS and the Ian G. Barbour Professor of Theology and Science at the GTU. He is ordained in the United Church of Christ to Ministry in higher education. Dr. Russell is the author of Time in Eternity: Pannenberg, Physics, and Eschatology in Creative Mutual Interaction, (University of Notre Dame Press, 2012), Cosmology from Alpha to Omega: Towards the Mutual Creative Interaction of Theology and Science (Fortress Press, 2008), serves as primary editor of theVatican Observatory / CTNS volumes on theology and science focused on science and divine action, is editor of the festschrift, Fifty Years in Science and Religion: Ian G. Barbour and His Legacy, and is author of numerous articles in the science and religion dialogue. Dr. Russell serves as Founding Co-editor of Theology and Science journal, and as PI of "Technical Assessment of Three Prior JTF-Funded Programs by CTNS and Strategies for the its Future (TASF)".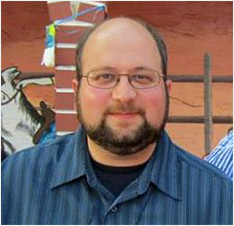 Dr. Braden Molhoek
Dr. Braden Molhoek has a B.A. in Genetics and Religion from Ohio Wesleyan University, an M.T.S from Boston University School of Theology, a Certificate in Science and Religion (Bioethics Track) from the Boston Theological Institute, and a Ph.D. in Ethics and Social Theory from the Graduate Theological Union. He is currently a Program Associate at the Center for Theology and the Natural Sciences and an Adjunct Professor of Science and Religion at the Graduate Theological Union. His dissertation entitled "Reinhold Niebuhr's Theological Anthropology in Light of Evolutionary Biology: Science Shaping Anthropology Shaping Ethics" brought together his interests in human nature, original sin, and the theology and science dialogue. Other research interests include artificial intelligence, genetic engineering, transhumanism, and virtue ethics.
CTNS Affiliated Faculty
Dr. Ted F. Peters
Dr. Ted Peters is Professor of Systematic Theology, Pacific Lutheran Theological Seminary and the GTU, teaching in systematic and philosophical theology. A former Parish pastor, Rev. Peters is ordained in the Evangelical Lutheran Church in America (ELCA). He directed the CTNS Science and Religion Course Program and has authored numerous books and articles on theology and science--theology. Dr. Peters is Founding Co-editor of Theology and Science and serves on the CTNS Advisory Board.
CTNS Sponsored Adjunct Faculty
Dr. Joshua M Moritz
Dr. Joshua M. Moritz teaches philosophy at the University of San Francisco, theology at the Jesuit Graduate School of Theology at Santa Clara University, and theology and science at the Graduate Theological Union in Berkeley, CA. He is Managing Editor of the journal Theology and Science and he has authored numerous books and articles, including Science and Religion: Beyond Warfare and Toward Understanding (Anselm Academic, 2016).