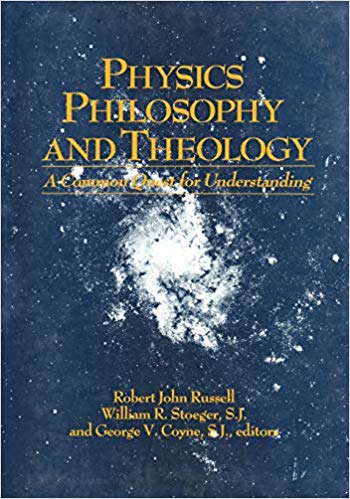 Edited by Robert John Russell, William R. Stoeger, SJ, and George V. Coyne, S.J.
Vatican Observatory, 1998
ISBN-10: 0268015775
ISBN-13: 978-0268015770
The contents of Physics, Philosophy, and Theology are wide-ranging but unified. The first part treats historical and contemporary relations in science and religion, biblical theology on creation, Newton's thought and the roots of modern atheism, the search for a natural theology, and the possible ways in which science and theology confront one another. In the second section the ways of knowing peculiar to the various disciplines and the implications for philosophical realism are investigated. In the last section a very creative and imaginative approach is taken to some of the most prominent areas of contemporary physics and cosmology in exploring whether they are open to revealing to us something of the reality of God and the relationship of God to the Universe and to us as we search for meaning within that Universe.
Contributors include: John Paul II, Ian Barbour, Michael Buckley, S.J., W. Norris Clarke, S.J., Richard Clifford, S.J., Michael Heller, Ernan McMullin, Olaf Pedersen, Mary Hesse, Nicholas Lash, Janet Martin Soskice, C.J. Isham, John Leslie, Sallie McFague, Ted Peters, John Polkinghorne, Robert John Russell, William Stoeger, S.J., and Frank Tipler.
Table of Contents
Preface by George V. Coyne, S.J.
Message from His Holiness Pope John Paul II
List of Participants
Historical and Contemporary Relations in Science and Religion
Ways of Relating Science and Theology, I.G. Barbour
Natural Science and Belief in a Creator: Historical Notes, E. McMullin
The Newtonian Settlement and the Origins of Atheism, M.J. Buckley, S.J.
Is a Natural Theology Still Possible Today?, W.N. Clarke, S.J.
Christian Belief and the Fascination of Science, O. Pedersen
Scientific Rationality and Christian Logos, M. Heller
Creation in the Hebrew Bible, R.J. Clifford, S.J.
Epistemology and Methodology
Knowledge and Experience in Science and Religion: Can We Be Realists?, J. Soskice
Physics, Philosophy, and Myth, M.B. Hesse
Observation, Revelation, and the Posterity of Noah, N. Lash
Contemporary Physics and Cosmology in Philosophical and Theological Perspective
Contemporary Cosmology and Its Implications for the Science-Religion Dialogue, W.R. Stoeger, S.J.
Models of God for an Ecological, Evolutionary Era: God as Mother of the Universe, S. McFague
On Creating the Cosmos, T. Peters
How to Draw Conclusions from a Fine-Tuned Universe, J. Leslie
The Omega Point Theory: A Model of an Evolving God, F.J. Tipler
The Quantum World, J. Polkinghorne
Quantum Physics in Philosophical and Theological Perspective, R.J. Russell
Creation of the Universe as a Quant, [C6] C.J. Isham